George Augustus Towers
G A Towers M.D. (1803-82) was, from 1828 until his retirement, variously the dispenser, medical resident, secretary, and student medical officer at what is now Hertford County Hospital (originally Hertford Dispensary, later Hertford General Infirmary). Originally based in a room in Hertford Castle, the infirmary moved to North Road in 1832. Dr Towers seemingly remained on the Board of the hospital following his retirement.
In about 1816 George was apprenticed to George Dickens, a surgeon of St Andrew Street. On completion of his apprenticeship he returned to London for several years before returning to Hertford. For many years George lived in the infirmary; later, after he retired, he and his family lived in a nearby cottage, Sele Lodge.
He was also an accomplished amateur musician, photographer and artist who, amongst his many accomplishments, painted a number of water colours of local scenes, some 30 or so of which are now in the keeping of Hertford Museum.
George was born on 6 June 1803 and baptised on 13 July 1803 at St James's Clerkenwell, Middlesex, the second known son of John Towers, an eminent horticultural chemist, and Anna Maria neé Wood, who were married on 21 May 1799 in Newcastle-under-Lyme, Staffordshire.
In the 1851 census, the relationship of the Matron, Mrs Mary Hopwood, to Dr Towers is given as Mistress; this must have been quite an admission for the times.
Late in life George married Emily Cannon of Hunsdon, a domestic servant at the hospital. They were married in St Clement Danes, Strand, London, on 9 October 1874; he was aged 71 and she was 23. This was at about the time George retired. During his lifetime they had two known children, both born in Hertford: Gertrude Alice, born in 1876, and Harry George, born in 1877. Another child, George Augustus, was born on 6 May 1883 and baptised on 29 July, after George senior's death. Sadly in the 1891 census George junior was in Wanstead Infant Orphan Asylum, Essex; Emily was then a Ward Matron at Christ's Hospital School in Newgate Street, City of London.
George died on 1 September 1882. It has been suggested that there was a mystery surrounding his death, which was due to an overdose of chloral [hydrate]. This is a sedative that was used at the time as an anaesthetic, but was also used as a recreational drug. Did George deliberately take an overdose or did someone close to him administer a fatal dose? In the event, however, the Coroner's jury concluded that, whilst he was an habitual user of chloral to help him sleep, the overdose was accidentally administered by himself. The Hertfordshire Mercury of 9 September 1882 contains a comprehensive report of the inquest. At probate, George's personal estate was valued at £2,006 3s 3d.
By all accounts Dr Towers was an active, well-liked and well-respected member of Hertford society for several decades.
An interesting online find was that in June 2010 the following item was sold at auction:
Victorian silver deskstand having a pierced gallery, decorative scroll rim and standing on conforming scroll feet, central hexagonal box with taper stick cover flanked by a facet cut inkwell to either side, bears presentation inscription to George Augustus Towers M.D. from the Members of the Hertford Literary and Scientific Institution June 1856. Makers Henry Wilkinson & Co, Sheffield 1855. 29.5cm wide.
Narrative by Graham R Irwin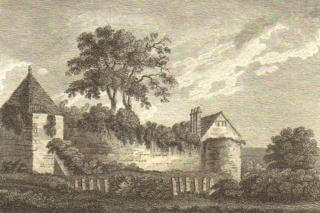 Hertford Castle, 1776