Programme 2013/14
12 September: Watton-at-Stone's Past in Postcards; Alan Rattue - Hertford
29 September: Special event - New River walk - see our poster
10 October: Mills of Hertford and Ware; Hugh Howes - Ware
14 November: Tickets: Window on the Past; Sarah Lloyd - Ware
12 December: A History of the Future; Philip Sheail - Hertford
9 January 2014: A Speaker from HALS - Hertford
13 February: Hertfordshire's Lost Water Gardens; Anne Rowe - Ware
13 March: 18th Century Workhouses in Herts; Sheila White - Hertford
10 April: The 1915 Zeppelin Raid on Hertford; Chris Davey - Ware
8 May: AGM, Florence Barclay; Gill Cordingley - Hertford
Hertford venue: St Andrew's church hall
Ware venue: St Mary's church extension
Meetings commence at 8pm
Visitors welcome at £2 a time.
Summer 2012 Programme
Our Summer 2014 programme will be published later. We include our 2012 summer programme as an illustration.
Sunday, 20th May Meet at 2.30 p.m. by the main notice board near the west door. A walk in All Saints' Churchyard, Hertford, guided by Edgar Lake.
Thursday, 14th June 7.30 p.m. for 8 o'clock in the Andrews' Room, Hertford Museum. Entertainment in Hertford A presentation by Edgar Lake.
Saturday, 30th June 3 p.m. at Ware Museum. A Private View of The Great Bed of Ware.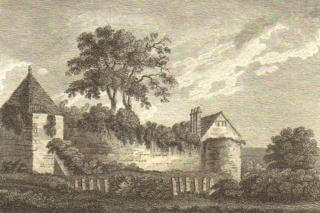 Hertford Castle, 1776